10 years ago, BinSolutions developed an innovative and attractive answer to the garbage storage problem. We designed a stylish storage enclosure to accommodate a variety of garbage and recycling containers to protect them from wind, rain, snow, and animals. Our garbage storage bins quickly became very popular because they helped homeowners keep their property neat and attractive. In 2006 Bin Solutions won the award "clean city, beautiful city" from city of Toronto for our participation in keeping the city clutter-free.
Over the past decade the product was modified to contain the new garbage,recycling, and compost bins.Today, we produce wide range of productsto solve all your waste management issues.
PRODUCT OVERVIEW
Custom built using selected western red cedar
Designed with air circulation- NO Smell!
Bin-solutions units are freestanding
Permitis NOT required!
Rust proof galvanized and stainless-steel fasteners
Adjustable legs allow for leveling on any solid surface
All Bin Solutions units are 100% raccoon proof-Guaranteed!
All bins come with a 5-year warranty!
Additional Features:
A heavy-duty cover arm locks the lid in open positionfor an easy one-hand operation.
The 2-point latch system (made in U.K) will allow easy use when operating the unit(extra large mini sheds).
All Bin Solutions units allow the doorto swing 270 degrees making for easy access.
Lids of the units are made of tongue-and- grove material to ensure your bins stay dry.
Our award winning raccoon-proof systems are particularily popular and have proven their value to all our clients.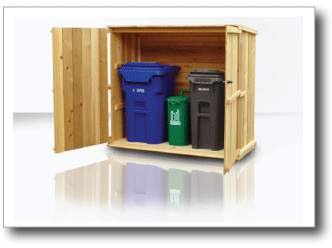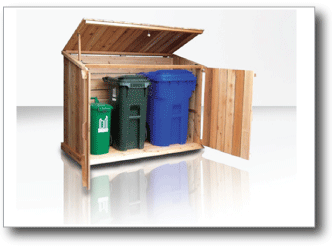 To view our online catalog, click here to visit binsolutions.ca