Our urban storage sheds are custom made for your specification
- They are handcrafted from selected western red cedar.
- We use selected tongue and groove material for the walls, doors, and lid.
- We guarantee that sheds will keep your stored items will stay 100% dry.
- All our sheds are built with care to withstand the test of time.
- They are designed for urban areas with a need of extra storage space.
- The units are free-standing--no permit is required!
- Elevated legs allow easy installation on any type of solid surface.
- All units include lockable a 2-point latch system with keys (made in U.K).
Our sheds are the perfect solution for bikes, garden tools, patio furniture, cushions, strollers, loan mowers, pool toys and more!
On-site consultation is available to help you make the right choice.
We are convinced that once you have seen how our Bin Solutions shed works you'll wonder how you ever managed without one!
Our products are a perfect solution to store all those toys, bikes and gardening tools that litter your driveway and yard.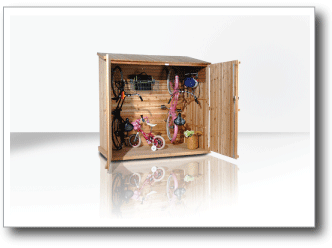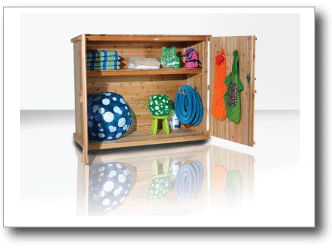 To view our online catalog, click here to visit binsolutions.ca