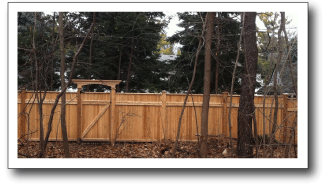 Proud to be the Homestars Winner for the Best of 2016 Award.
Established in 2004 by Binsolutions Inc., Toronto Decks and Fence has maintained and continues to provide high quality exterior wood structures. We design and build all of our projects using top quality lumber such as selected Western Red Cedar.
Why Cedar?
Not all lumber is made equal. Unfortuantely, these days one must be very cautious in where they buy their wood from. Simply because a product is labelled as cedar or ipe should not in any way reassure you that the wood will not rot in a couple of years. There are many different species of wood which are individually grown, harvested and stored in various ways. This has a huge impact on the price and longevity of the wood once it's fully assembled into a deck, fence, pergola or any other wood structure you can imagine.
Beauty - Western Red Cedar has a rich and vibrant appearance like no other wood.
Durability - Western Red Cedar has excellent stability and endure a variety of elements from mother nature. It remains straight and is less likely to twist and crack than most other wood products on the market. With proper refinishing and maintenance, Western Red Cedar can last for many years.
Unique Smell One of the most distinctive qualities of Western Red Cedar is it's aroma. From brand new or after many years of refinishing, the tanin oils from this wood offer a feel like no other.
We have spent countless hours researching, testing and developping our products and we only purchase all of our lumber from high end distributors around the country. We provide sound advice and experience to all of our clients so they know exactly what materials that we are using.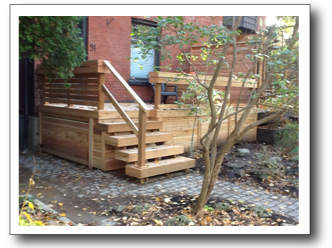 Our Customer Service
Our clients always come first. During the process of design, quotation and construction, it is very important to us that our clients are updated with the progress, able to freely ask questions or share concerns and above all, enjoy the experience with our company. All of our staff are fully trained and are always on board with you.